Some suggestions from me and my wife's experience last fall.
Before we got married, both of us considered family highly important. We're now around eight months into our marriage and this sentiment has only increased. Two truly are better than one. We're both very glad that we didn't delay getting married, in spite of the restrictions associated with the coronavirus pandemic that made some aspects of our wedding (especially who we could have be there) different than they would have been under ideal circumstances. In spite of these restrictions, we were both still very pleased with how the wedding went; it also stayed well within our budget. Because we want to encourage other couples not to let finances be a barrier to getting married (or wedding costs being a heavy debt burden from day one), we thought it would be nice to share from our experience some of the ways we found to save money on our wedding while still having a day we'll both remember fondly for a lifetime.
First of all, and probably most importantly, we made sure we were on the same page about the wedding budget. This included tallying up how much we were willing to spend, as well as an exercise to identify our priorities. Some of the specific ways we saved money are unique to us—like the officiant waiving a fee/honorarium because he's the bride's father—but this process we followed is something that any couple could use. We tried to narrow things down to our top three priorities (individually, then merging our lists) for tangible and intangible aspects. An example of a tangible priority is having an attractive and unique venue; an example of an intangible priority is hospitality—making sure guests are comfortable and have a good time. Once we'd settled on a budget and identified priorities, the more detailed planning that followed benefitted from already having a shared big picture perspective established. This made the planning process a nice time of working together towards a common goal rather than becoming a source of conflict.
Another thing we tried to keep in mind was the "project management triangle": good, fast, or cheap—pick at most two. Less pithily, this is the notion that there's a trade-off to be made between quality/scope, schedule constraints, and price.  For us, trying to have an affordable wedding was not about pinching every penny, but rather a focus on aligning spending with what we (and our guests) would really value and remember. That meant that the aspects we'd identified as our top priorities were areas where we aimed for the high-quality corner of the triangle, while for other aspects we felt more comfortable aiming for the affordable corner of the triangle. The choice of venue was an area where the schedule constraints corner of the triangle really came into play. With the frequent changes last fall in what was permitted in terms of gatherings, a major factor in our choice of venue was their flexibility to roll with the changing regulations (including making their deposit refundable).
Other principles we used in our planning process and think other couples could also take advantage of were accepting offers of help from family (we didn't solicit/pressure anyone to help, but gratefully accepted any offers), aiming for reusability for décor items, and getting multiple quotes for key services. It quickly became apparent that the most expensive line items would be catering, photography, and the venue rental so we researched and compared multiple options for each of these, and tried not to get completely set on one before thoroughly evaluating the options. Providing a good meal for guests was one of our priorities, so we didn't mind catering being the most expensive line item. However, we still explored several options to make sure we could serve something that would be sure to satisfy while staying within our budget. For the photography, we also got several quotes and came to the realization that going with an established professional photographer would tie up almost half of our planned budget on a single line item that we hadn't identified as a top priority. So when our sister-in-law volunteered to take some pictures (a win-win arrangement since she's trying to build up a portfolio) we gratefully accepted—and the photos turned out beautifully!
Getting some nice décor without spending a lot on it was a great opportunity to get creative! For the wedding ceremony, we used a hand-made trellis and a couple of potted palm trees as the backdrop. The trellis is now installed in our garden and the trees provide some greenery in our living room. We also bought a nice rug to stand on; it's now in our bedroom. These were things we wanted anyway, so we didn't really count them as part of the wedding budget. And we continue to enjoy them today. For the reception, the table cloths/runners were sewn by family members using some nice fabric repurposed from second-hand curtains. The décor on the tables included various bronze items (candlesticks, vases, etc.) that were mostly purchased second-hand and some old books with nice bindings (which we already had). Table numbers were written with chalk on floor tiles (which we plan to use for a future home reno project); nametags to help guests find their seats were made from maps cut from an out-of-date atlas (another thing we purchased second-hand). Almost everything had either already been used, or we knew we would use again—neither of us like the idea of buying stuff that would be used once then discarded.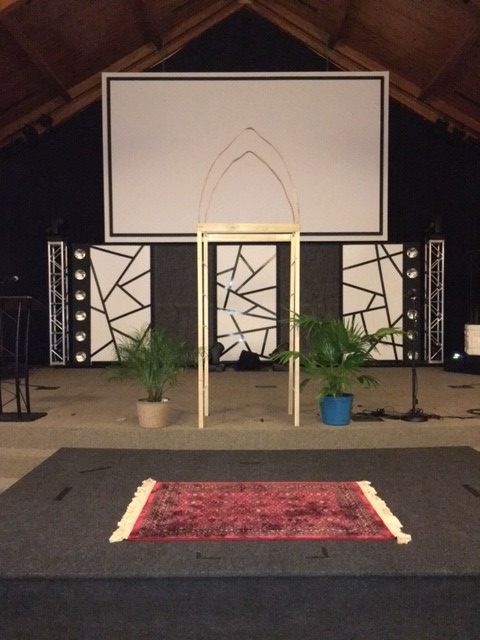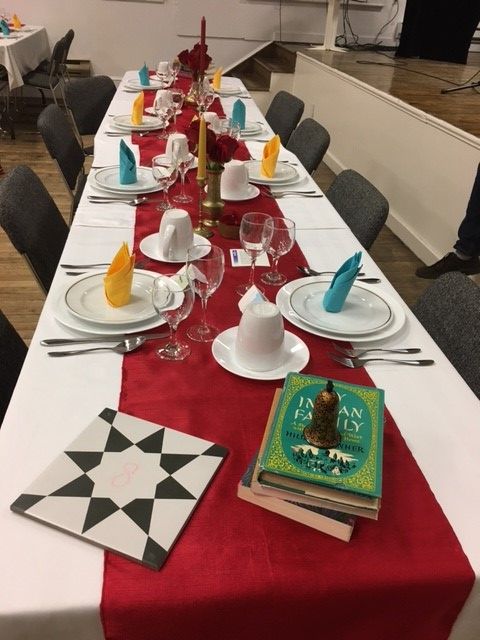 In the last section of this article, we'll go over some other details of how our wedding came together. While these examples are specific to us and not as transferrable as the planning principles and processes/strategies laid out in previous paragraphs, perhaps they can spark some inspiration nonetheless.
Rather than ordering invitations, we designed our own and had them printed at a local business supply store.
The bridal apparel was ordered online from India. Not every website had good service or timely shipping, but the order was placed with one that did, and it arrived on time and in good condition.
Mendhi (bridal henna art) was applied by a talented cousin. A niece did the flower arranging (for the bouquets of the bridal party, and vases for the tables at the reception). These girls aren't even teenagers yet, but their creativity is impressive.
Rather than paying full price at a florist, the flowers were sourced from a wholesaler, with some supplemental ones picked up from a grocery store.
For music at the reception, we curated a playlist on YouTube (and signed up for the premium version to avoid having ads play) ourselves. It was enjoyable picking a mix of romantic and fun songs that we both like.
In addition to the food provided by the caterers, we also wanted to serve an Indian dessert (mithai) called gulab jamun. There's an Indian grocery store in a nearby city that gets it delivered from Toronto on a weekly basis, so we arranged to get a bulk order from them. This type of mithai is customarily served at Indian weddings; we wanted to incorporate traditions from both of our cultural backgrounds in our wedding, and we both prefer gulab jamun to any wedding cakes we've had, so choosing to serve them (and some other homemade desserts) instead of a wedding cake was an easy decision.
One thing that was an absolute, unanticipated blessing was that our church (which was the venue for the ceremony) had just invested in some audio-visual equipment for livestreaming services. They made this available so that we could livestream the ceremony on YouTube for friends and family who couldn't travel to be there due to pandemic-related travel restrictions; they even gave us a copy of the video afterwards. It worked without a glitch—we really couldn't have planned it any better!