An Itinerary for Visiting the Maritimes
When I travel, I like getting Lonely Planet guidebooks to look at beforehand. Finding out what the writers recommend provides a starting point when I'm planning what I want to see and do. Of course, I never follow their recommendations 100% since I want to make the experience my own, but I certainly appreciate the inspiration and ideas they offer.
I thought it would be cool to try my hand at writing a similar guide for the part of the world I call home: the Maritime Provinces of Canada (i.e. Nova Scotia, New Brunswick, and PEI). If you've never been here, maybe this post will inspire a visit.
I've written this guide in the form of a two week itinerary, with suggestions (more than could be covered in just the time allocated) for things to see in each place. It covers some of my favourite places in the Maritimes. It assumes starting out from Fredericton.
The Itinerary
Days 1 – 2, Fredericton:
Day 3, Saint John and southwestern NB:
Alternatively, for Day 3 (or as an extra day)
Days 4 – 5, Fundy:
Day 6, Moncton area:
If you have an extra day or two at this point, the other National Park in New Brunswick (Kouchibouguac National Park) would make a good visit.
Days 7 – 8, PEI:
Days 9 – 11, Halifax and area:
Day 12, Drive to Cape Breton
Cape Breton is a bit out of the way, but very much worth a visit. It takes several hours to drive there from Halifax, so you basically need to set aside a day to plan around the travel time.
Day 13, Cape Breton:
Day 14, Drive back to Fredericton (or next destination)
From Sydney, Nova Scotia, you can board a ferry to Newfoundland to make this a tour of all the Atlantic Provinces rather than just the Maritimes.
Notes:
I put this itinerary into Google Earth as shown in the following map. Some photos of a few of the places mentioned above can be seen below.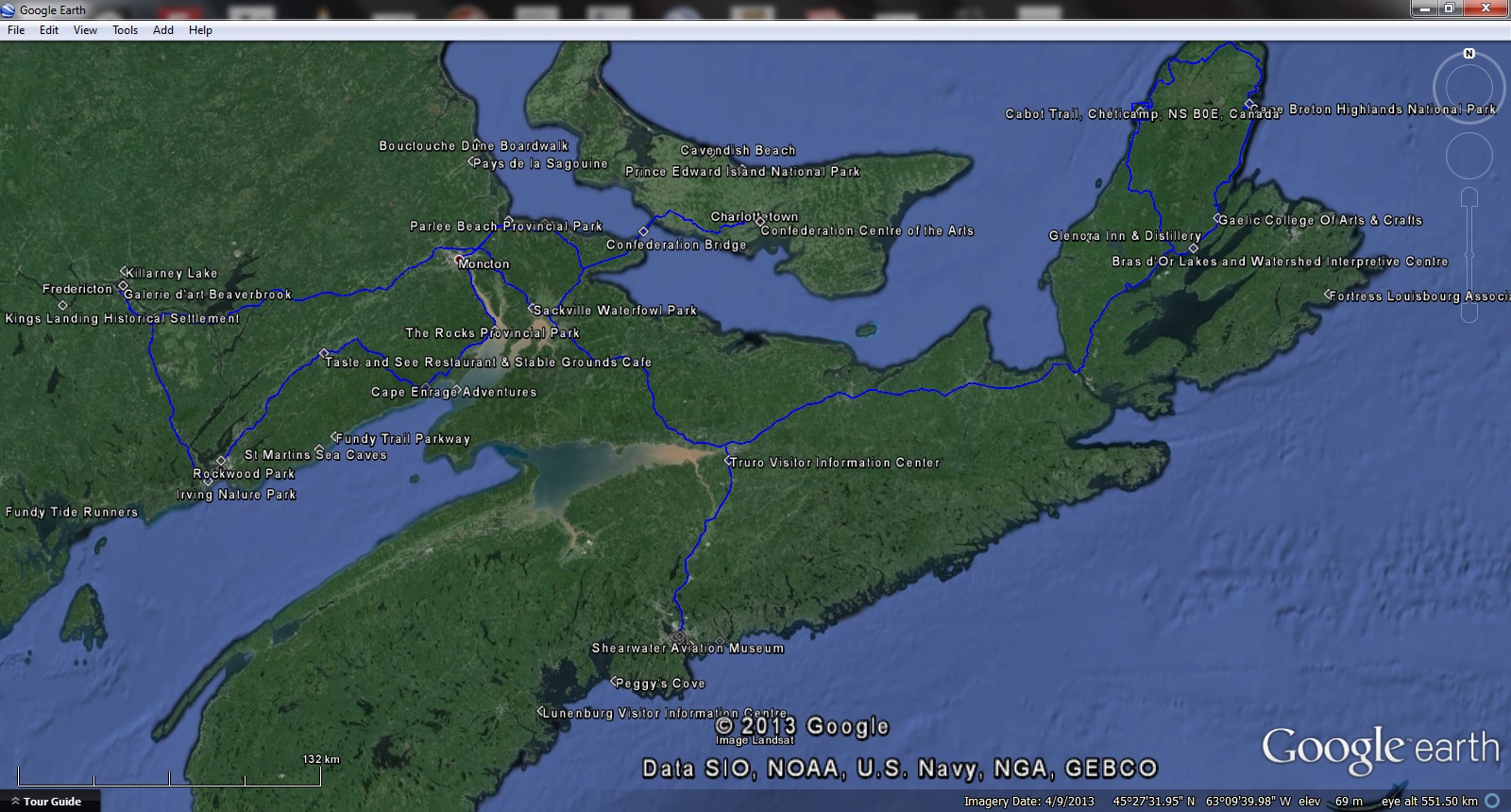 ---