Top Ten Things to do in Fredericton
This weekend I had a good time taking in some of the Harvest Jazz & Blues Festival so it seemed like a good time to celebrate my hometown with this Top Ten list.
Take a day trip: Putting this first is not to diminish anything there is to do in Fredericton. Rather, one of the perks of it being a fairly small city is that you can be well outside of the city in half an hour's drive (e.g. Mactaquac Provincial Park); many places along the one-of-a-kind Bay of Fundy coast can be reached in less than two hours. There are plenty of hiking trails that make good options for day trips.
Walk across the old train bridge and see the downtown skyline from Carleton Park.
On Saturday mornings, go find something tasty to eat at the Boyce Farmer's Market.
Go to the Beaverbrook Art Gallery (which is opening a new wing in about a month's time). For more art, check out commercial galleries like Gallery 78 or Gallery on Queen.
Get out on the river: The Saint John River runs through the centre of the Fredericton but feels like an escape into nature—especially if you slip between some islands or go up a tributary. You can rent a canoe/kayak/SUP or take a boat tour.
Go biking on the city trails. My personal favourites are the Gibson and Valley trails.
Attend festivals and events such as Winterfest or the above-mentioned Harvest Jazz & Blues Festival.
Stroll along Queen St.; do some window shopping and see the colonial-era garrison buildings.
Visit some local pubs with a good atmosphere. My top suggestions are Picaroon's Roundhouse (Picaroons was the first craft brewery in Fredericton) and the Lunar Rogue (they have a whisky list that's among the most extensive in Canada).
Explore Odell Park (or other parks in the city like the UNB woodlot and Killarney Lake). In the winter, give snowshoeing a try!
I've done over half of these things so far this month, so this list is strongly backed by my own experience!
To go with this list, I made a map showing the location of things that were mentioned within downtown Fredericton (my apologies to colour blind viewers for the colour scheme):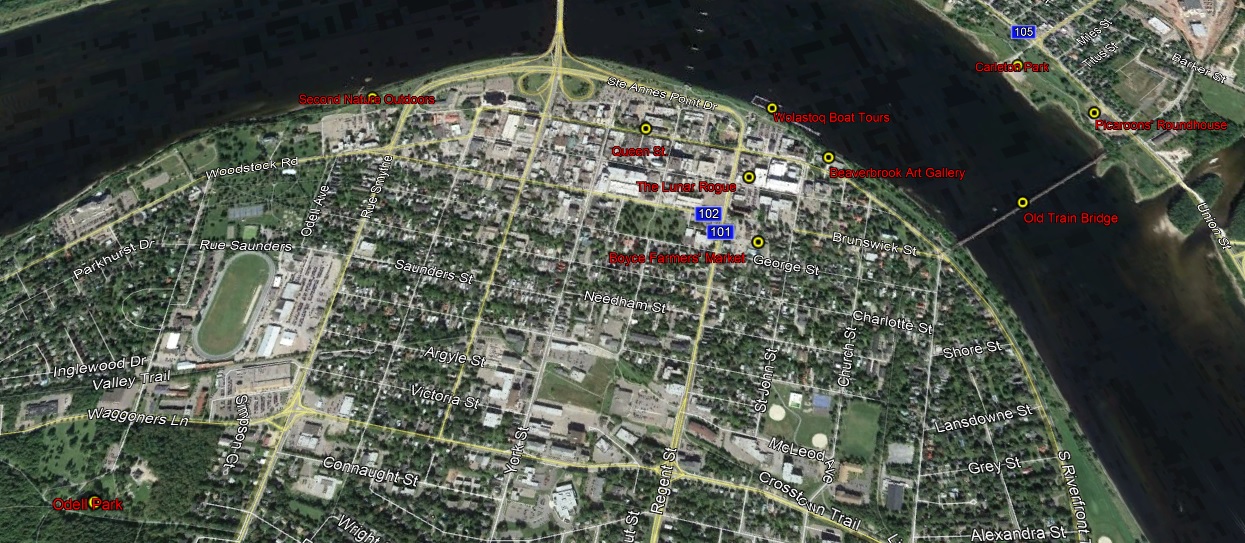 Regarding daytrips, I made an isochronic map of southern NB (showing places that can be reached within 30, 60, 90, and 120 minutes of driving from downtown Fredericton) to help with planning.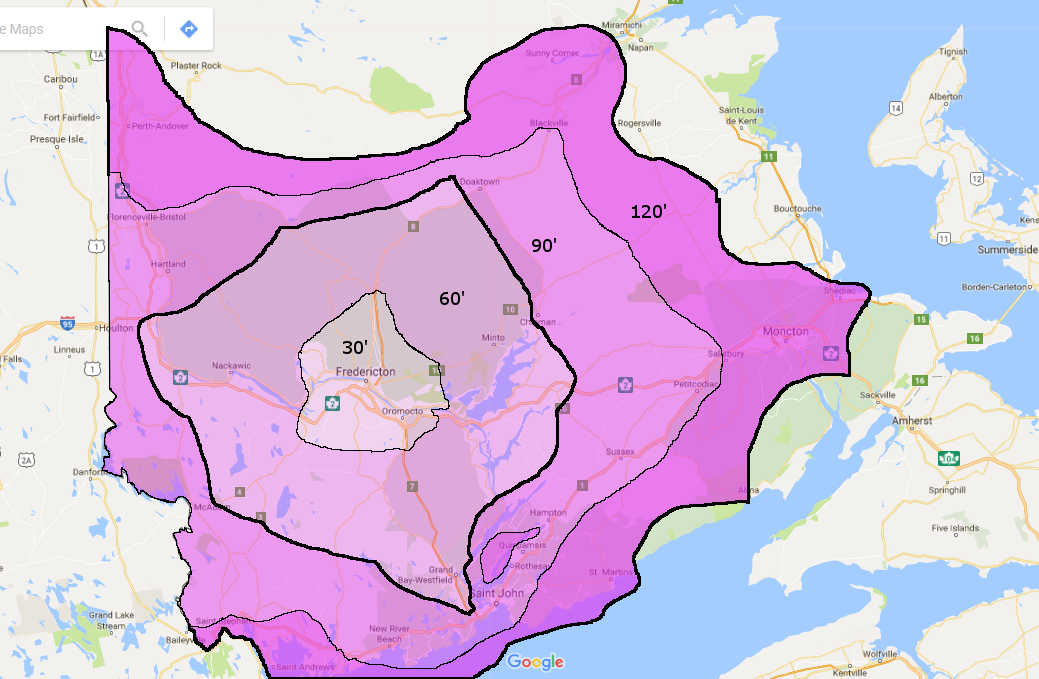 Finally, here are some previous posts I've written than may provide some day trip inspiration:
GHOST_URL/nb-day-2015/
GHOST_URL/southwest-miramichi/
GHOST_URL/portobello-creek/
GHOST_URL/the-red-rocks-of-st-martins/
GHOST_URL/the-last-long-weekend-of-summer-2016/
GHOST_URL/looking-for-whales-in-charlotte-county/
GHOST_URL/chignecto/