One of my goals for this year was to try eating crickets (I've mentioned in a previous post how it could be an emerging trend). On a recent trip to the US, I got a chance to do it.
I bought a couple of Chapul bars from Chamberlin's Natural Foods in Kissimmee, Florida: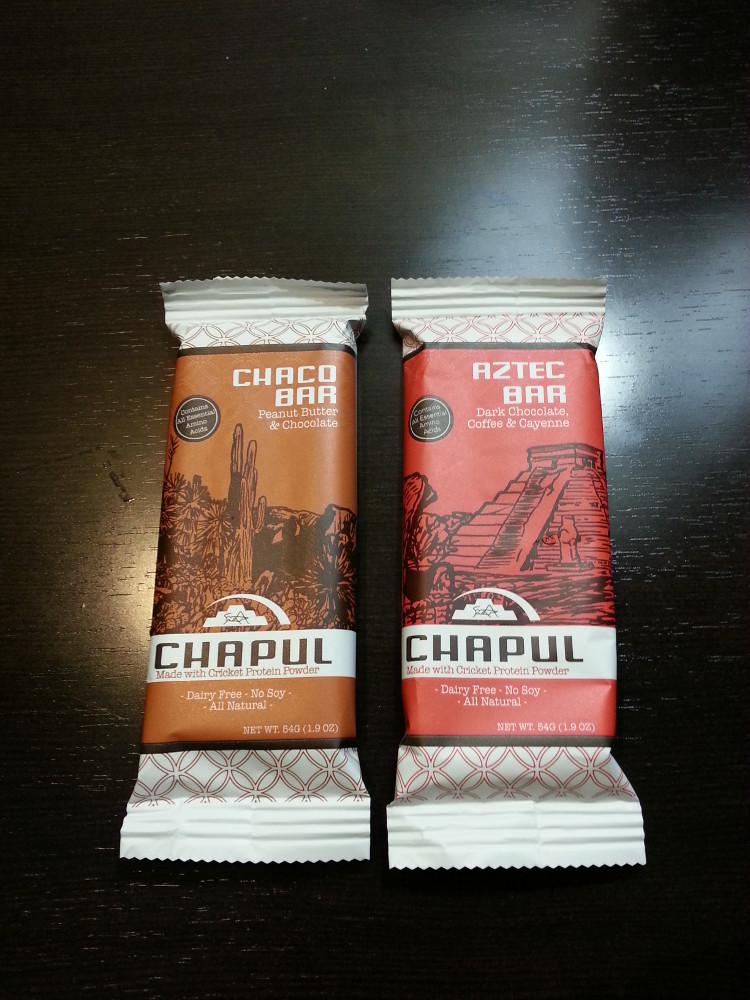 For the taste, I'd agree with this description from a Canadian cricket farm. The bars had dates as their first ingredient, so they provided most of the texture. The crickets were added in the form of a powder/flour—not whole—as the third or fourth ingredient. So their earthy taste came through, but didn't overwhelm the other flavours. I found the "Aztec" flavour was more interesting (just a bit spicy due to the cayenne powder used; it also had cocoa and coffee in the ingredients, but those flavours were pretty subtle), but the "Chaco" bar is more like a typical energy bar (with peanuts as a main ingredient; it had higher protein, fat, and calories than the former). The names for these bars come from pre-Columbian civilizations in the Americas. Chapul also has Asian-inspired flavours, but I haven't tried any of them yet.
Acheta domestica crickets are raised to provide a source of protein in these bars and other products.
The packaging carries this rationale for farming and eating insects:
Why eat crickets?
In a changing world, our diets will dictate our destiny.
Crickets need only 17% of the food, and less than 1% of the water and land resources than livestock for the same amount of protein. They also require fewer natural resources than meat substitutes like soy, corn and rice.
At Chapul, we're creating solutions towards a healthier, more sustainable food supply. Chapul Cricket Protein Powder is a sustainable, ancient protein source that we've crafted into a gourmet energy bar to fuel your adventures.
We invite you to expand your mind, expand your taste and join us in a food revolution.
Apparently, edible insects have yet to take-off in Canada, though.