Frostival is an annual winter festival in Fredericton. I've gone to some events in it the past several years, but I don't think I've written about it before.
One of the events that I was looking forward to (and even got a ticket for) but ended up missing due to being delayed getting back from a business trip was an adult night at a science museum downtown.
There is a nice open ice surface in Officers' Square. It is used for some Frostival events, but it's also free for skating whenever. I really enjoy stopping there on my way home for a bit of skating on evenings when the weather's decent.
A fun event that I've gone to in a couple of previous years is a snowshoeing hike after dark. It fills up fast, however, so you have to sign up well in advance to participate.
The main event I made it to this year was a "gallery hop": open houses for art galleries downtown. At Gallery 78 I admired some work by artists including Peter Salmon and James Wilson. At the Beaverbrook Art Gallery, one of the new exhibits since the last time I was there was a collection of wood-turnings (bowls, urns, etc.) by the late Gordon Dunphy. As the following picture shows, he was able to produce some remarkable patterns by the way the turning axis intersected with the grain. And he must have known wood very well based on the variety of species he used—each with a unique look.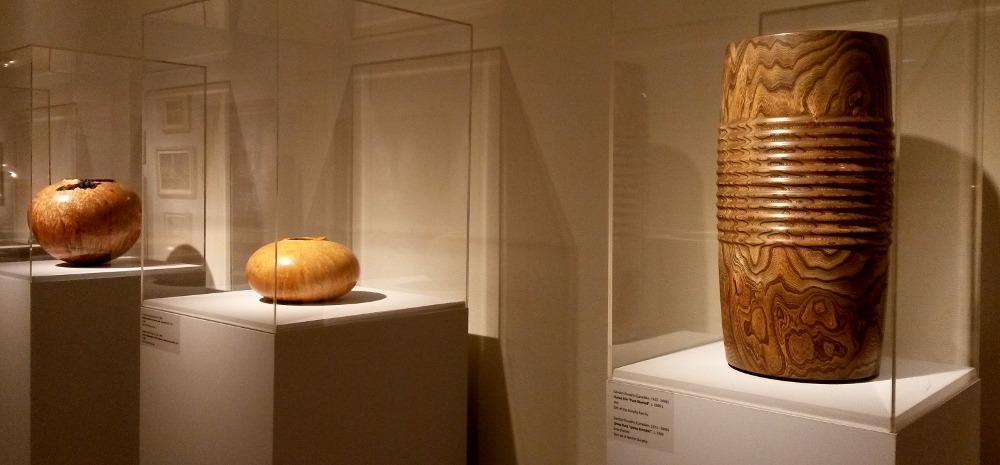 (The Gallery on Queen also had some of Dunphy's work on display).