Map of New Brunswick Watersheds
In the introduction to Timothy Frink's book on New Brunswick history (which I reviewed earlier), I read that there were very few roads at the beginning of European settlement because it was so easy to get around the province by canoe. He claimed that you could get to almost any part of the province by canoe with portages less than 12 miles. I was inspired to take a closer look and made this map of the main watersheds in New Brunswick: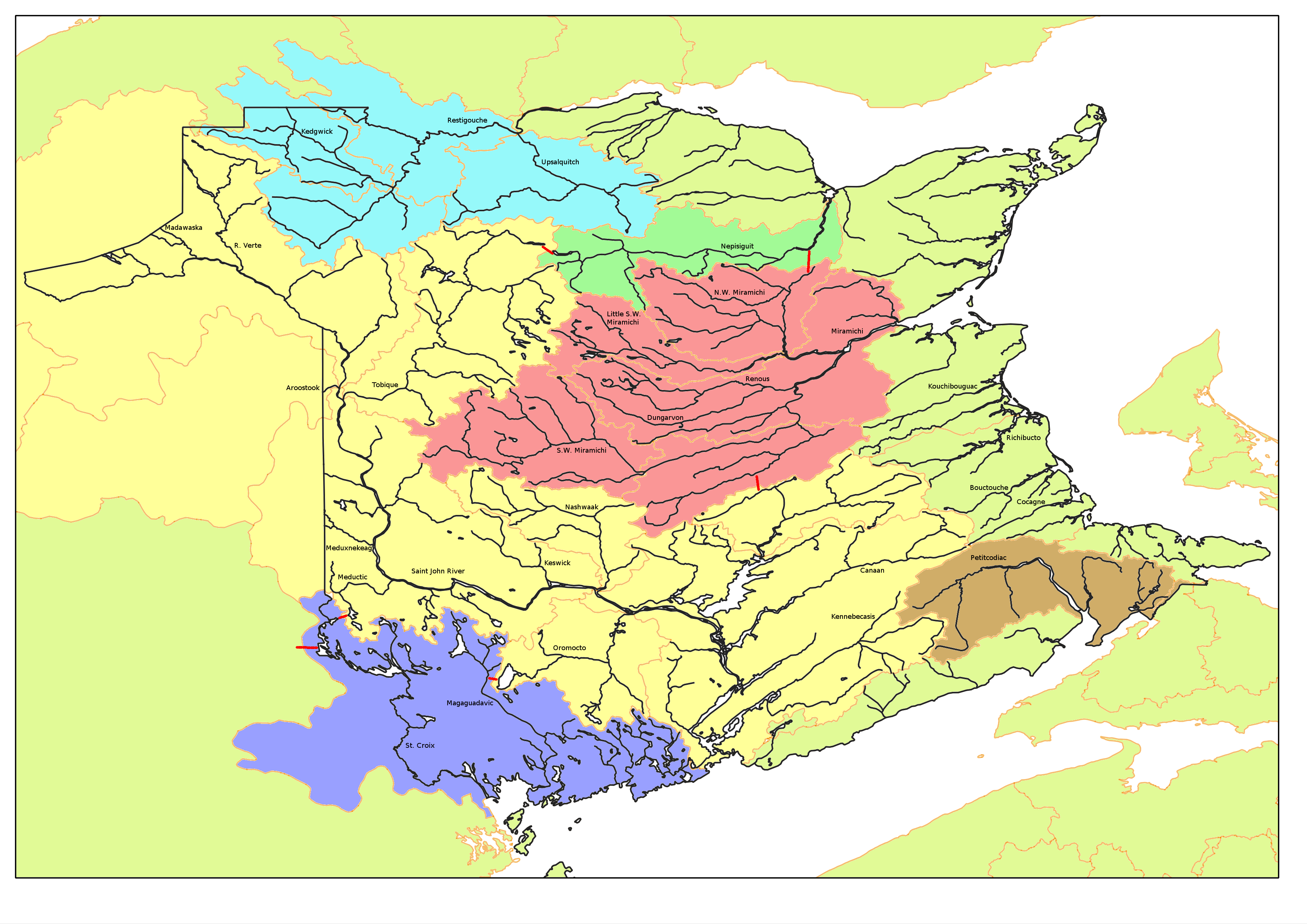 On this map, the following features are shown:
Rivers, in black, with notable ones labelled
The boundaries of the province
Basin (and sub-basin) areas, demarcated in light orange
The Saint John River watershed, coloured yellow and extending into the United States
The St. Croix and Magaguadavic watersheds (I guess they were individually too small to be separated in the source dataset), coloured purple-blue
The Petitcodiac watershed, coloured brown
The Miramichi watershed, coloured red
The Nepisguit watershed, coloured pastel green
The Restigouche watershed, coloured light blue
Other watersheds (small coastal rivers and those in other provinces or states), coloured in light yellow-green
Portage routes, shown as red lines
The data for this map comes from Geogratis.gc.ca—specifically rivers and lakes in New Brunswick and drainage areas in Canada at a 1M scale. I imported the data into qGIS to make the map and used the Gnu Image Manipulation Program to add colours and labels.
I also researched a bit about portage routes from Maliseet Trail (which focuses on a portage route from the Saint John River to the Penobscot River in Maine) and the Canoe & Kayak Association of NB. The Salmon Atlas was helpful in figuring out which branch was which in the Miramichi basin.
In making this map, it was interesting to see how most of the significant settlements in NB are located at the mouth or a fork of a canoe-navigable river. Learning about about the First Nations' history of the region was also interesting. For example, the Saint John River watershed basically defined Maliseet territory, and the St. Croix River watershed had the same significance for the Passamaquoddy people.
Looking at New Brunswick from the perspective of watersheds reveals very close ties to the State of Maine. The border is defined in some places by the course of the St. Croix and Saint John rivers and is crossed by the Meduxnekeag and Aroostook rivers. The Saint John River and its tributary the Allagash reach deep into northern Maine; and the Penobscot River in Maine has a tributary, the Mattawamkeag, that reaches within a few kilometres of the border (forming part of the "Maliseet trail" linked above).
Writing this post has added to my motivation to get out in a kayak or canoe frequently this summer to explore some of these rivers. I'd also be happy to see some of these portage routes get well marked and developped into good trails.