This weekend, I got my kayak out from winter storage and paddled around the mouth of the Nashwaak River.
Around a month and a half ago, I was snowshoeing, but now the weather has warmed up enough to get out on the water.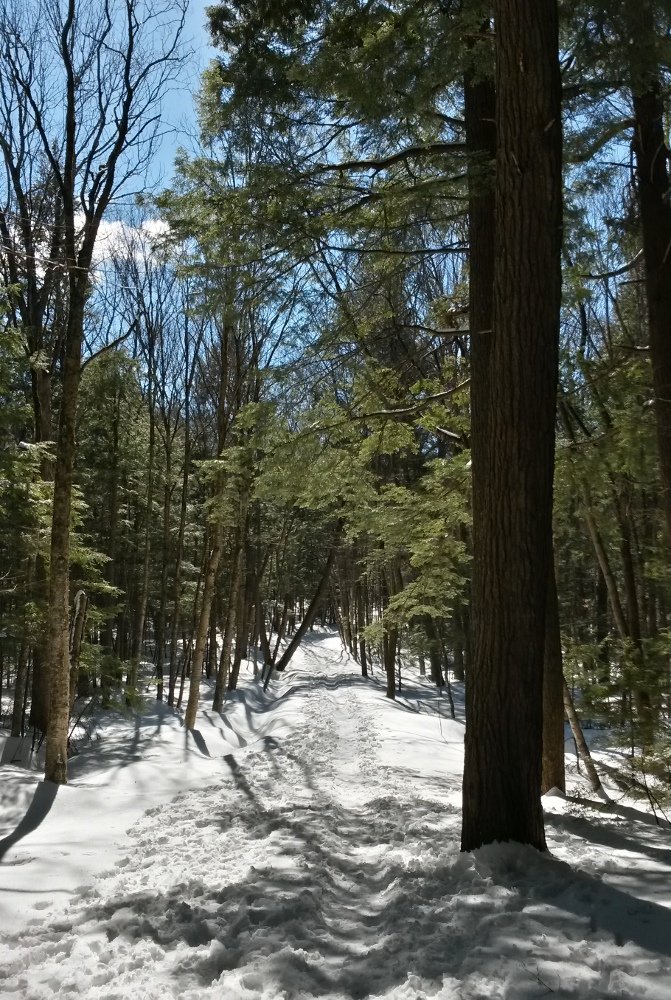 Because of the high water level, I had to duck to get under the trail bridge near the mouth of the Nashwaak River on this trip.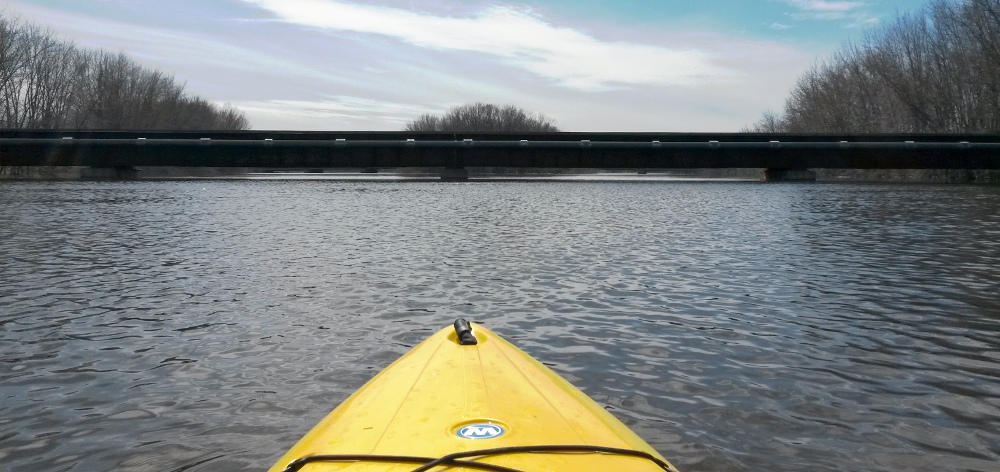 In the spring, I love taking advantage of high water levels to appreciate places that aren't normally accessible (last spring I spent an afternoon in Portobello Creek, for example). Along the Saint John River and its tributaries, the flood plains are forested in many places; for a few weeks each year it is possible to go paddling among the trees.

It's very secluded and peaceful.
Annual flood disturbances mean that the flood-tolerant silver maples in these zones don't have to compete with flood-intolerant species (like oaks, as in the song by Rush) for light and nutrients.
The Nashwaak Watershed Association is working to preserve and restore these floodplain forests. Among other things, they are reportedly valuable for mitigating flooding elsewhere:
Silver maple floodplain forests are estimated to be worth approximately $72,000 USD/hectare/year based on flood mitigation alone.
I picked up a book called More of Canada's Best Canoe Routes in a used bookstore a while ago. Its chapter on the Saint John River is subtitled "The Flooded Forest". Here is an excerpt:
In spring, when a raw Atlantic is scarcely warmer than the Arctic, this is a welcome waterway. Of particular interest is the stretch between Burton and Hampstead, where the freshet (spring melt) invades the floodplains, opening up a tangle of tree trunks and canals — an environment that is unique in Canada and reminiscent of the mangrove swamps of the southern United States.
The rising river carves the banks and inundates the islands, depositing mud and silt to nourish the red maple. Fiddleheads, the delectable young sprouts of the ostrich fern, poke up through the water, the first sight of green in an otherwise dull decor of muted colors. Barren branches sound a cacophony of warblers, pausing on their way further north, and the tapping of woodpeckers into widespread deadwood. Osprey have also moved onto the bleached trunks of the dead American elms that once lined the valley.
On the subject of good canoe and kayak routes in Canada, I recently came across some suggestions from Olympian Adam van Koeverden as well as from another interesting site.
For my next post, I plan to have some more photos related to the spring freshet, so stay tuned!