Cost of Housing in New Brunswick
In recent times, it has been hard to escape noticing the very expensive cost of housing in Toronto and Vancouver (though it seems to be stabilizing for now). I decided to do a little investigation on the cost of housing in New Brunswick for comparison.
Method
I searched on Kijiji (which is hopefully representative, although it may be weighted more toward private sales) on 8 July 2017. The search was within 150 km of Fredericton (so it includes Moncton, Saint John, Sussex, Woodstock, etc.). I considered houses (not condos) offered for sale. Using the search filtering options, I divided the results into price brackets. Here is an example search for properties < $100,000. I noted the number of results in each price bracket and also selected an example (screenshots below) to present. For each example, I list some characteristics of the property, such as the distance to downtown (taken as the location of City Hall for the respective city, and not factoring traffic delays) and the square footage.
Summary of Results
Here are the numbers of listings that fall into each price bracket:
0 – $100k: 738
$100k – $200k: 1443
$200k – $300k: 823
$300k – $450k: 399
$450k – $600k: 85
$600k – $800k: 43
$800k – $1M: 6
$1M+: 17
These price brackets do not include the upper end (i.e. the range is < not ≤ the upper value). Note that the brackets get wider as they increase. Some of the listings on Kijiji appeared to be redundant (the same ad uploaded more than once), but I didn't try to correct for that.
It can be seen that 85% (3004/3554) of the listings are less than $300,000.
Examples
I selected an example ad from each price bracket defined above to demonstrate what size and features can be obtained for your money. Because ads can change quickly, I'm using screenshots so that this post will continue to make sense. However, these are not my ads, I'm only using them for analysis/comment.
Example 1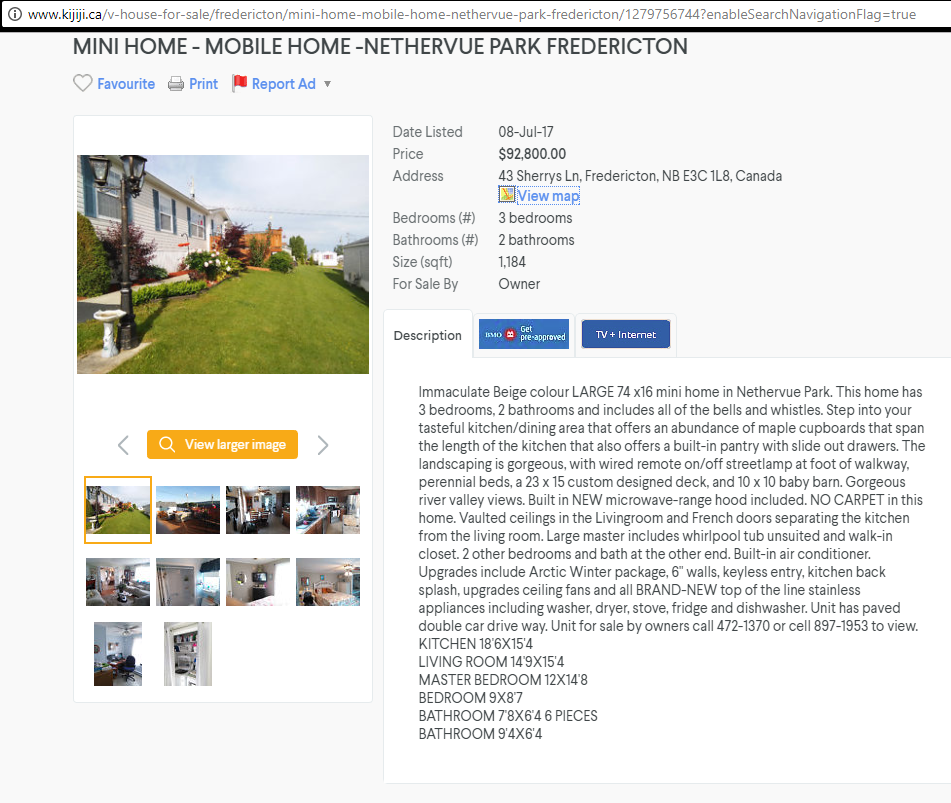 12 min drive to downtown Fredericton
1184 sq ft
mini-home
3 bed, 2 bath
paved driveway
$92,800
Example 2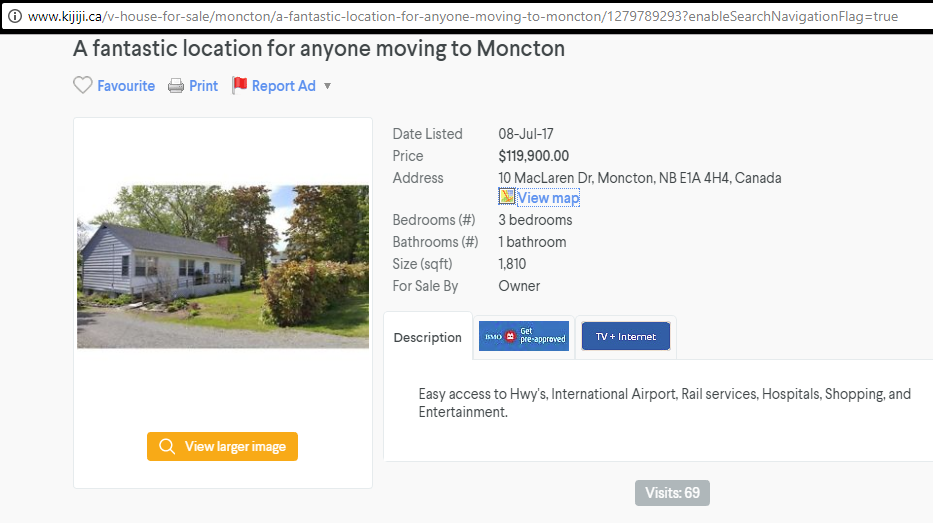 5 minute drive to downtown Moncton; 20 minute walk to a mall (Champlain Place)
1810 sq ft
3 bed, 1 bath
$119 900
Example 3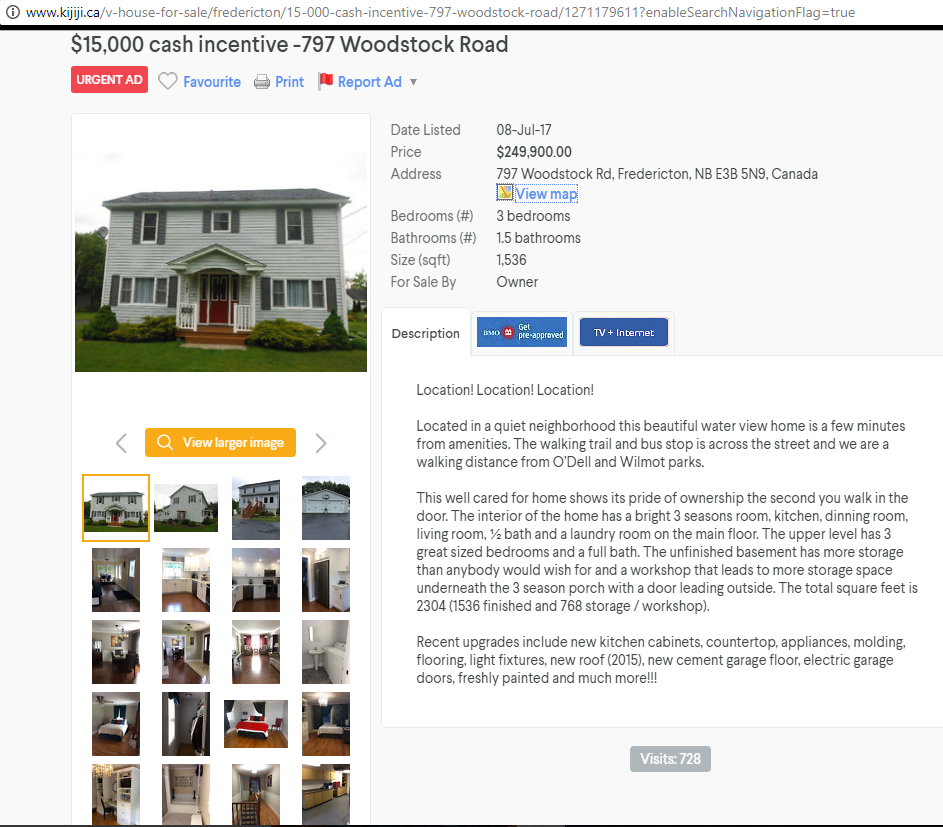 6 minute drive to downtown Fredericton
close to walking trails
1536 sq ft + 768 sq ft unfinished (storage)
3 bed, 1.5 bath
includes detached 2-car garage
$249 900
Example 4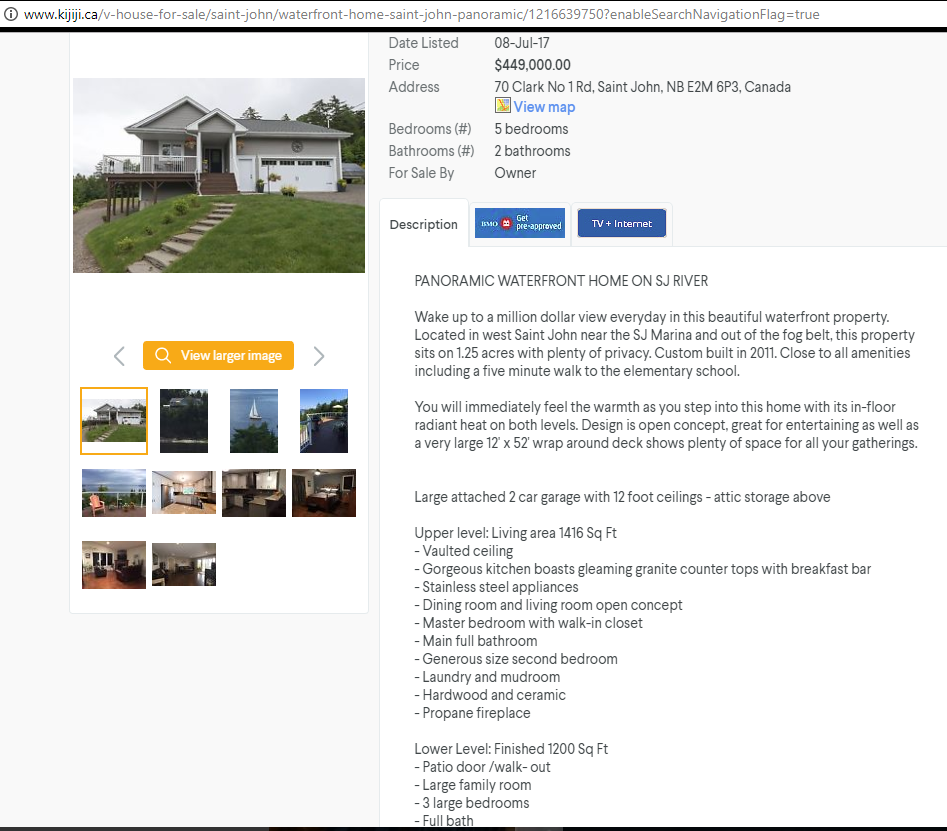 17 minute drive to downtown Saint John
2616 sq ft
on 1.25 waterfront acres
5 bed, 2 bath
$449 900
Example 5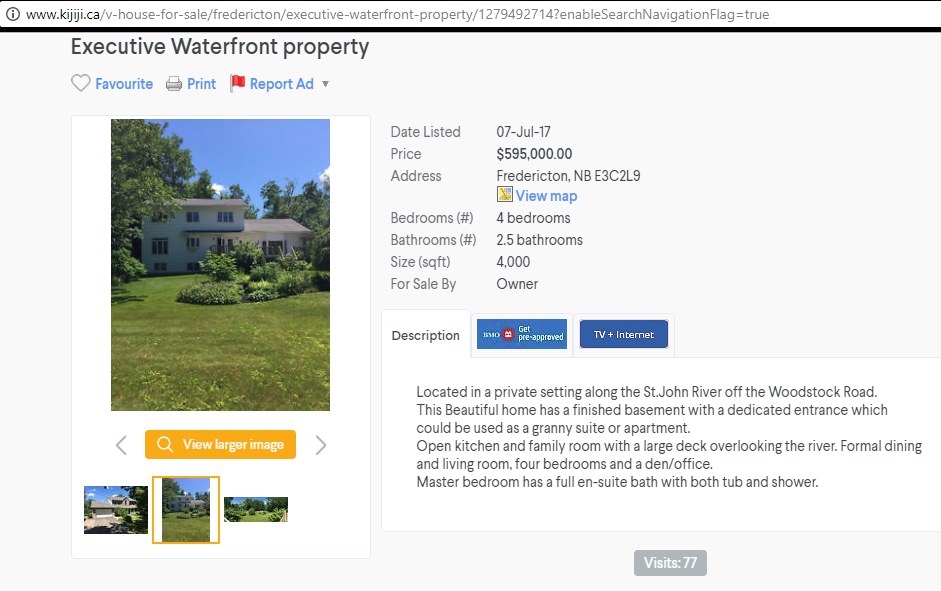 10 minute drive to downtown Fredericton
4000 sq ft
4 bed, 2.5 bath
close to river and walking trail
$595 000
Example 6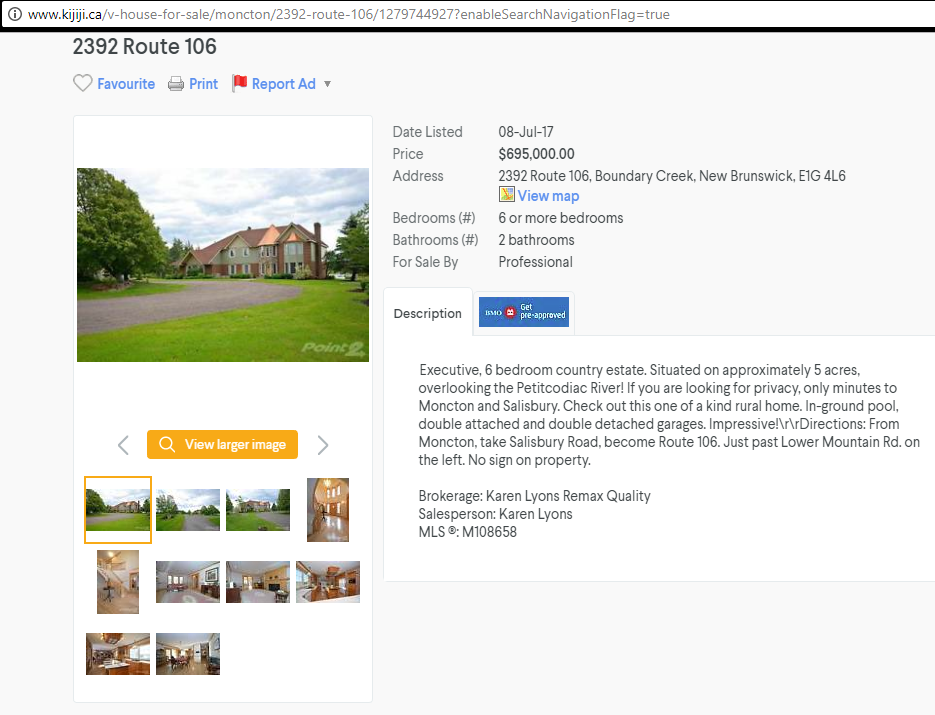 18 minute drive to downtown Moncton
6 bed, 2 bath
overlooking Petitcodiac river
5 acre property
$695 000
Example 7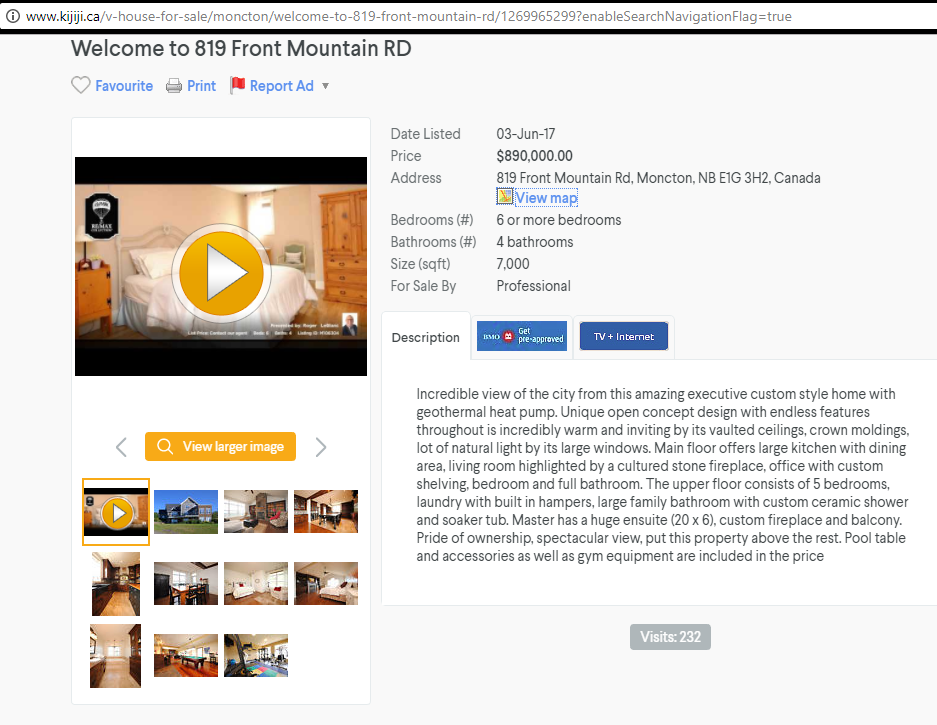 16 minute drive to downtown Moncton
7000 sq ft
6 bed, 4 bath
view of the city
$890 000
To see some New Brunswick houses for sale with prices over $1 million, see this article.
Special Ads
The next two ads are for properties that are a bit different from your typical home, but they came up in my search and I wanted to include them in this post.
Bonus 1
100 acre hobby farm
44 minute drive to downtown Moncton (and a 42 minute drive to Fundy National Park)
includes house, garage, and barn
$325 000
Bonus 2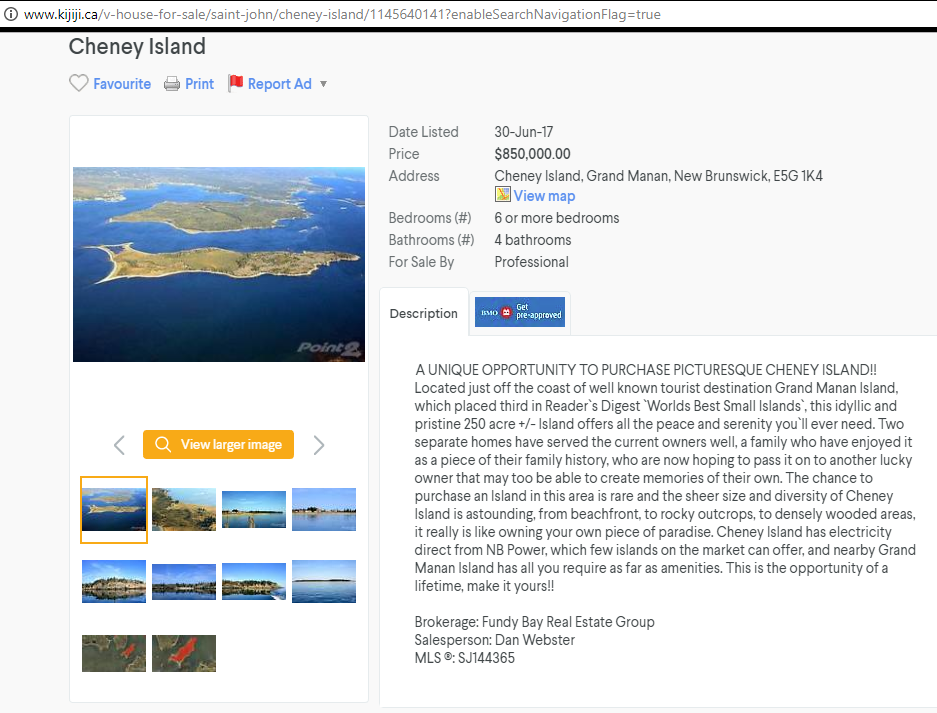 250 acre private island
connected to electrical grid
next to Grand Manan
includes 2 houses
$850 000
Private island listings in New Brunswick can also be found here.
---
On a completely different topic, I went hiking on the weekend to Walton Glen Falls and the Eye of the Needle canyon (a previous post I wrote included a video from YouTube of a drone flying over that part of New Brunswick). I'm not going to write a full post about this hike (I didn't take any GPS logs or anything like that), but I did want to share a few photos: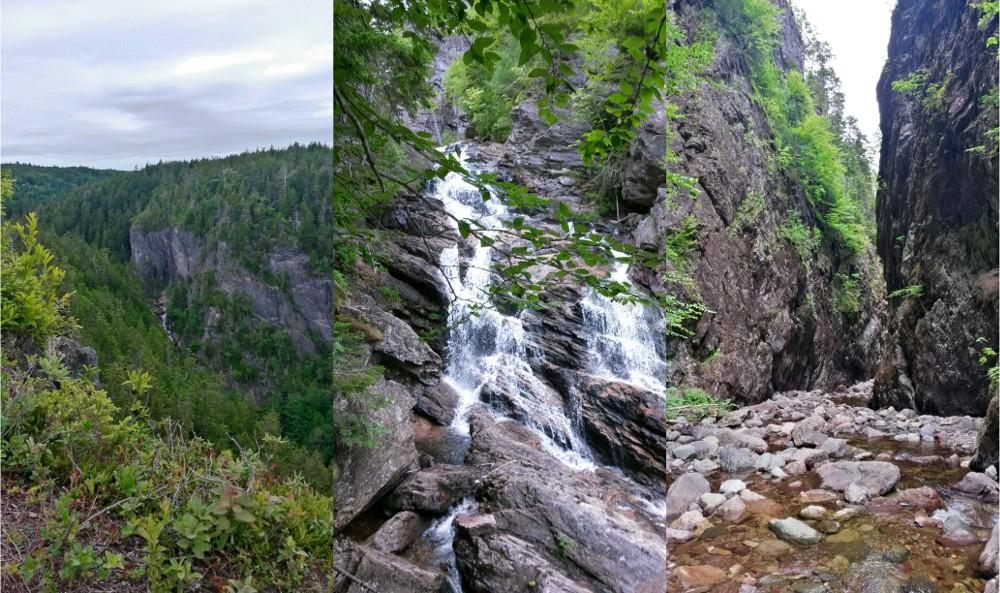 From left to right is the gorge, the falls, and the "Eye of the Needle" canyon
It is one of the top hikes in the province (at least outside a national or provincial park), in my opinion.
For my next post or two, I plan to write about some things that are relevant to what I do professionally, then I expect to have more book reviews and summer adventures to share.