I've written in the past about trips I've taken to Scotland, the Pacific Northwest, and France (as well as offering some suggestions for here in the Maritimes). Three years ago (as of last month), before I started writing this blog, I went to Spain. This post is a look back at that trip.
My visit to Spain started (and ended) in Madrid. It was my first time being on my own in a truly foreign city, and it ended up being a great experience. I enjoyed seeing some interesting neighbourhoods, plazas, parks, and museums. I remember getting some tasty food at the Mercado de San Miguel. At the Reina Sofia art gallery, I saw lots of works by Salvador Dali and other Spanish artists and at the Naval museum I saw scale models of ships and ports from the glory days of the Spanish empire, along with naval artifacts. I wanted to go to the National Archaeology Museum but it was closed for renovations when I was there. Although I only went to the Reina Sofia Madrid also has a couple of other prominent art galleries: the Prado and the Thyssen-Bornemisza. If I was in the area again, I'd also like to take a day trip (or overnight) to Toledo to see its medieval city centre.
This photo is of the Iglesia de San Pedro el Viejo in the La Latina neighbourhood.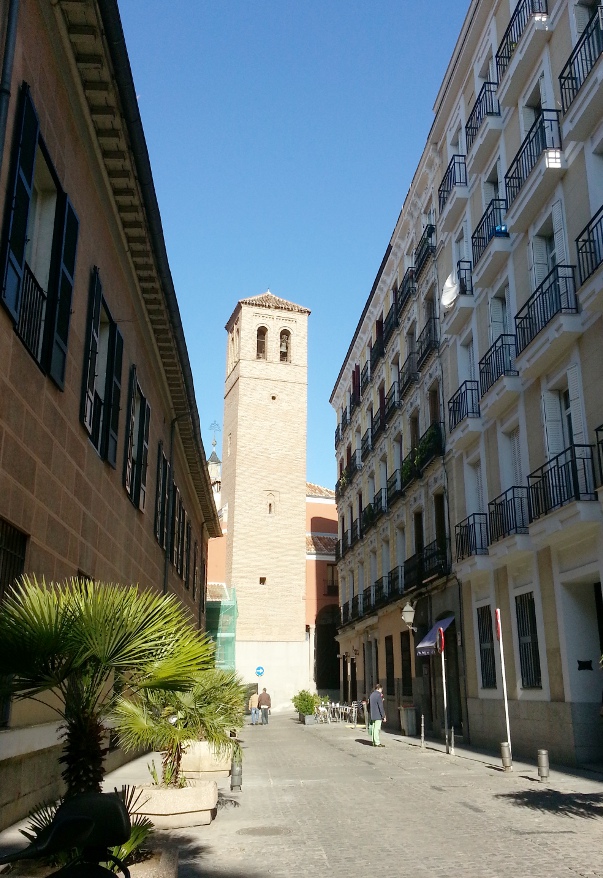 From Madrid I moved on to Grenada, which I absolutely loved. In Granada, the medieval neighbourhood of Albaicin and the fortress/palace complex of Alhambra stand on opposing hills. I stayed in a cool hostel in the Albaicin (which took a while to find due to the narrow, twisting streets and alleys); they gave a walking tour one day when I was there that went to a solar-powered dance party in the woods and a gypsy village in the caves outside the city walls (it's a pretty well-established part of the city now).
The Albaicin and Alhambra are shown in the photos below, followed by a picture from inside the Alhambra—in the palace portion. It was built by the Moors and is famous for the carvings and tiles on the walls and doors (I've shown a picture of a tiling pattern there in a previous post).
The weather was fantastic when I was there. And I enjoyed some tea shops. I'd like to go back to that part of Spain (Andalusia) and see some other places there (Seville, Cordoba, etc.); Granada is definitely a spot I'd love to return to, too.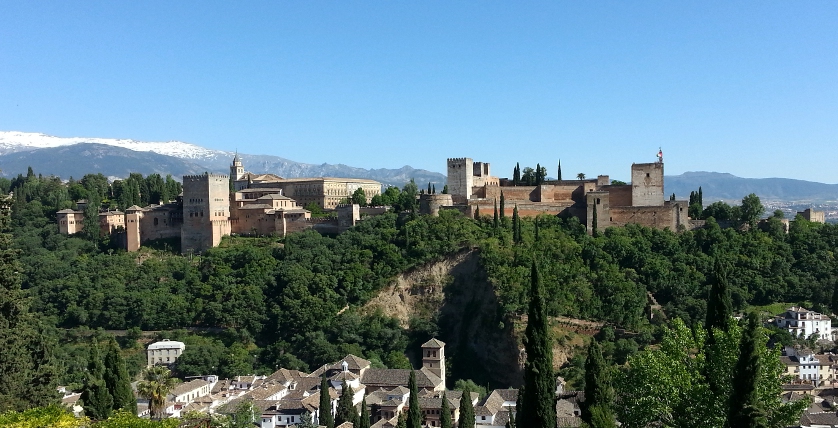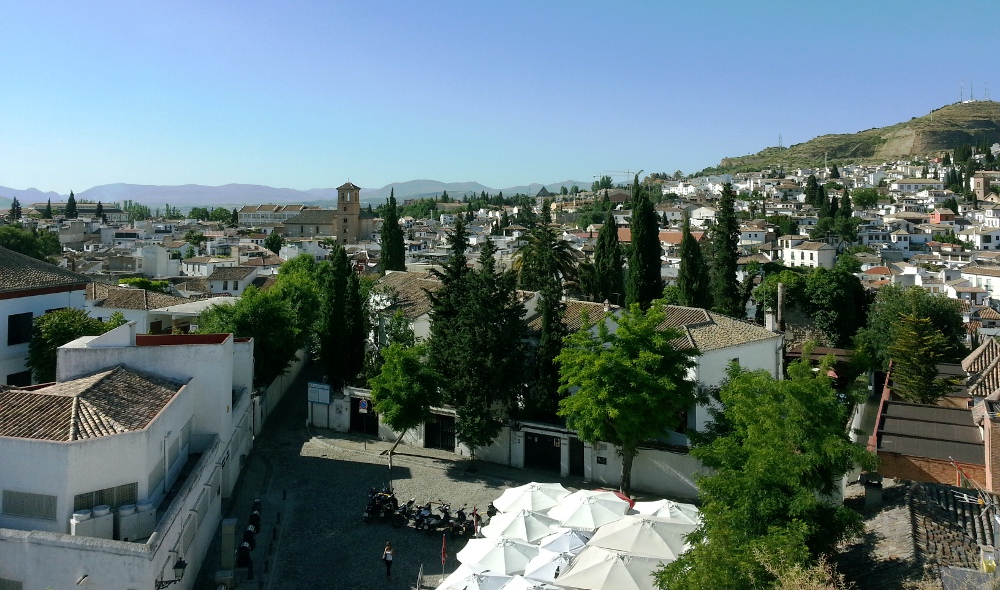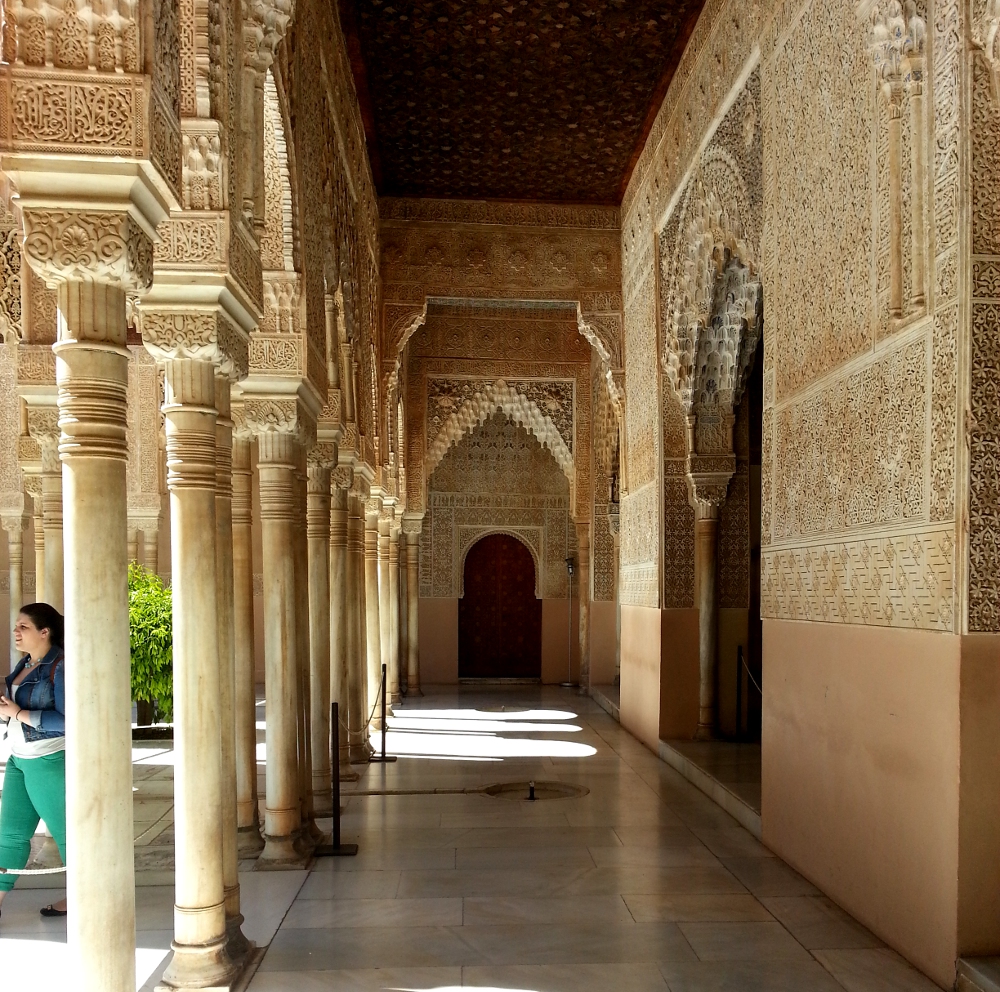 After Grenada I took a bus to Algeciras. It's not really a tourist destination; I went there to catch a ferry to Tangier, across the Strait of Gibraltar in Morocco. However, I still found a few things of interest there, such as its large container port (I like watching ships) and views of the rock of Gibraltar (pictured below). And I had a nice walk along the water after I got back from Morocco. If I was going there again, I'd want to visit Gibraltar (i.e. the British side).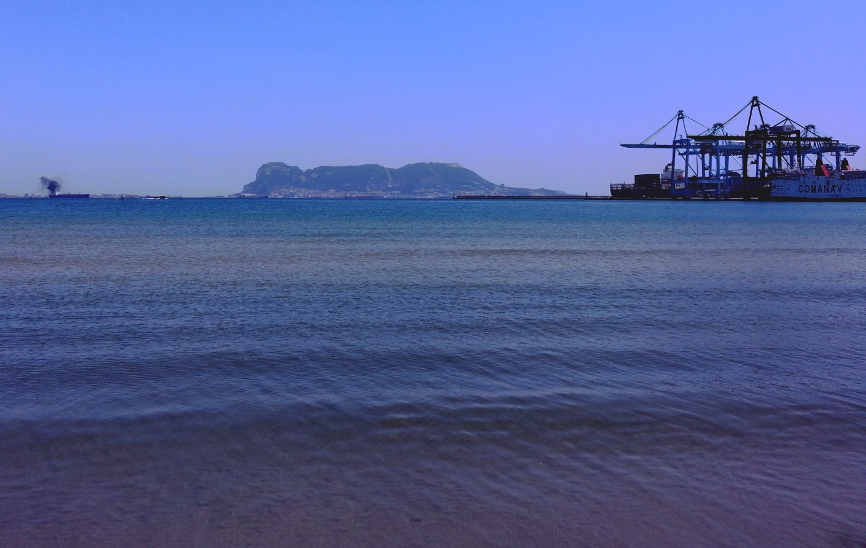 The ferry ride across the Strait of Gibraltar was pretty quick, going from Tarifa (a shuttle bus connected from the larger ferry terminal in Algeciras) to downtown Tangier. I spent a day and a night in Morocco, getting shown around by a guide who basically attached himself to me from the time I left the ferry (and demanded payment at the end of the day—it was kind of a stressful experience, but I got to see quite a bit of the city in a short amount of time). In Tangier, I visited some merchants in the old medina and ended up buying a Berber rug and a couple of shirts. I also saw some markets, mansions, and historic buildings in the city, and the cave of Hercules just outside of it.
Here are a couple of photos from Tangier: a public square, and looking over some rooftops in the old medina.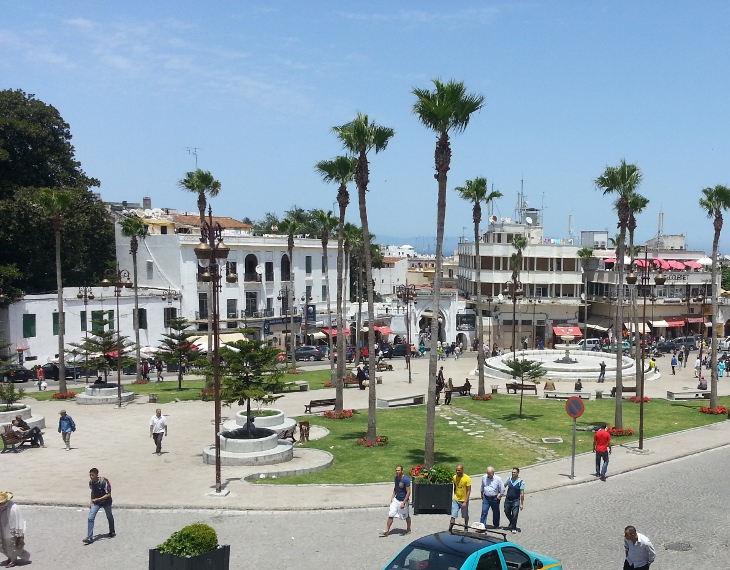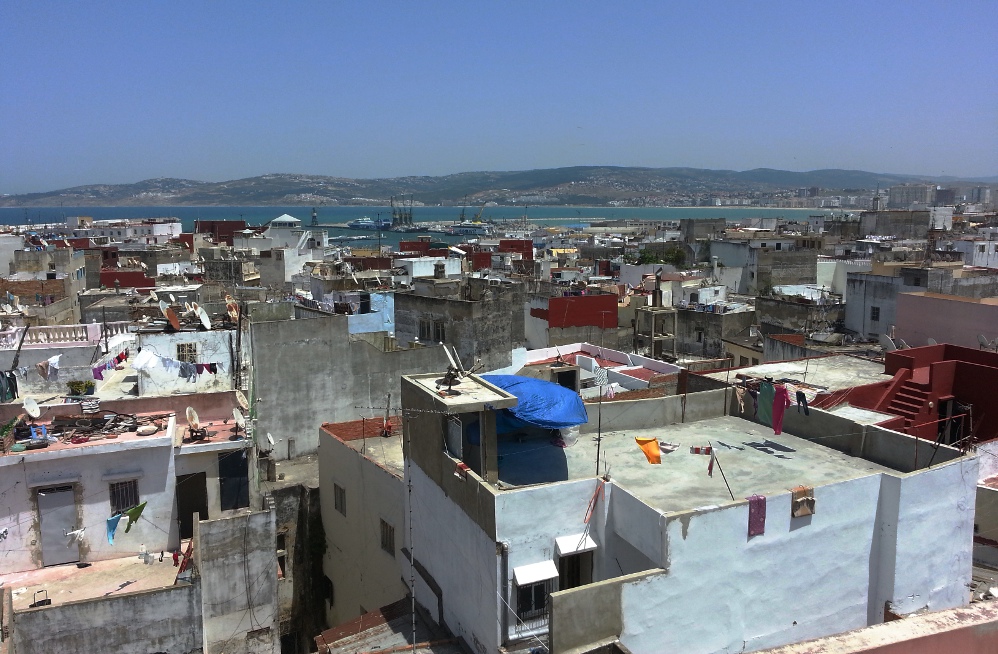 Back in Spain, I took an overnight bus from Algeciras to Valencia, where I met up with a friend of mine who was on an exchange program at the university there. Valencia has a nice linear park that follows the course of an old river bed (the river was diverted to save the city from floods). It also has beautiful beaches. The City of Arts and Sciences in Valencia has some striking contemporary architecture. If I'd been there longer, it would have been nice to visit the Oceanografic aquarium. We also went to the cathedral (its bell tower offered a panorama of the entire city) and the central market. I enjoyed some delicious food in Valencia: paella, horchata, and a variety of tapas—my friend speaks Spanish a lot better than I do, and knew the best things to order, so I ate better there than in other cities where I was depending on myself to order.
Here are a couple of photos of the City of Arts and Sciences: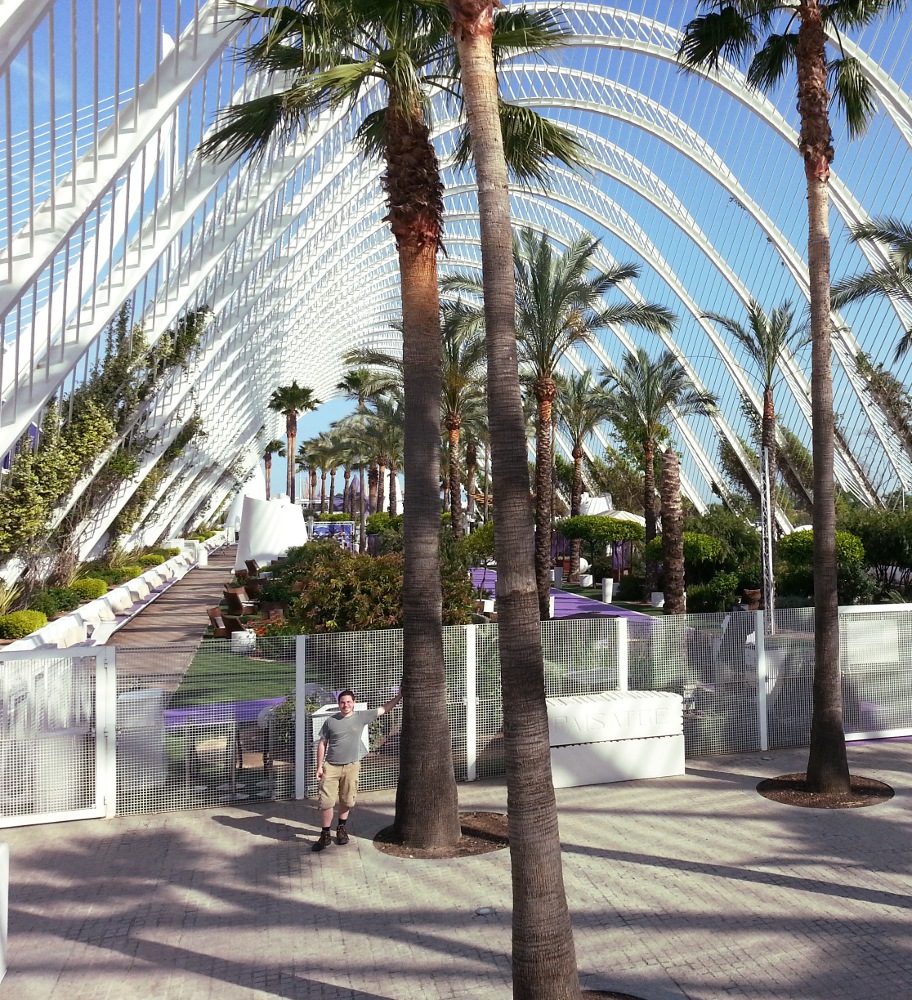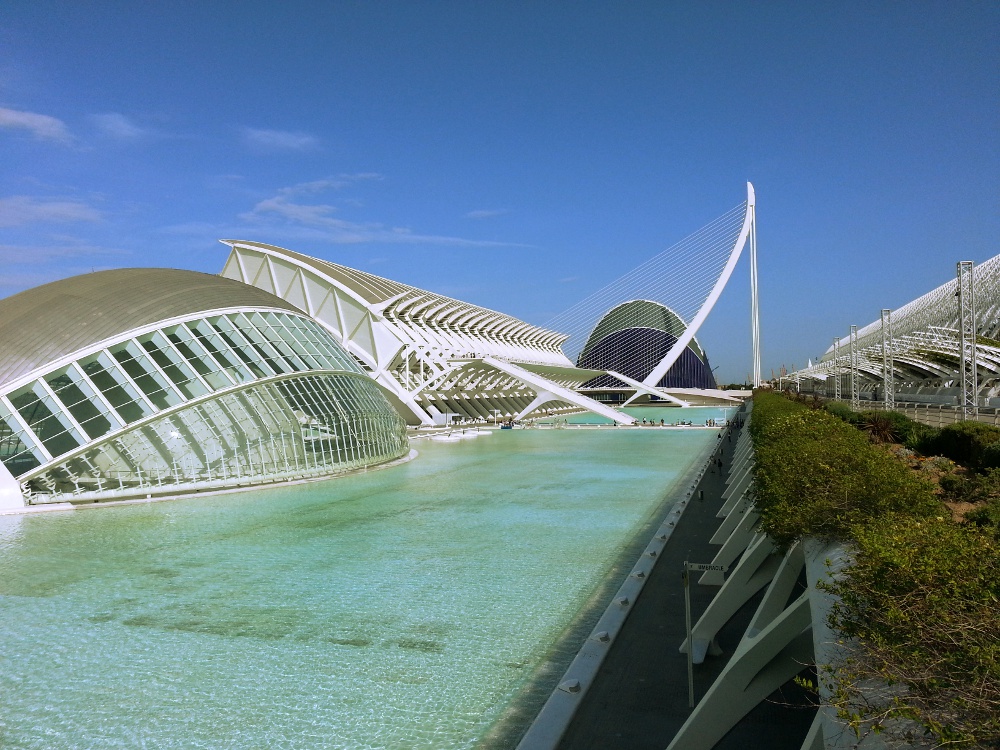 To wrap up this post, here is a photo of some tasty jamón being sold in Valencia's central market: