After Denmark, I travelled to the Netherlands, where I spent some time around Amsterdam and Rotterdam. In this post I'll share about what I did in the Amsterdam area; I plan to feature the Rotterdam area in my next post.
Amsterdam flourished during the Dutch Golden Age in the 17th Century, and the legacy of that period forms the foundation of its cultural appeal—of course there is plenty of cool stuff from more recent times there too. The Dutch Golden Age, as I understand it, was a period with a lot of conflict and external threats (they were involved in seven wars in Europe in the 17th Century, plus other conflicts around colonies and overseas forts) but new-found political independence and serious dynamism in business and the arts. The people were industrious (the reputed "Protestant work ethic") and Reformed spirituality shunned conspicuous consumption, leading to large surpluses. Along with wealth, the Dutch Republic accumulated colonies and a powerful navy. The Ascent of Money discussed how Amsterdam had the world's first stock market. Part of my inspiration for wanting to go there was reading some novels set in Amsterdam during the Dutch Golden Age: The Coffee Trader and The Baroque Cycle.
Like I did when I went to Paris a couple of years ago, I found it beneficial to get a city card in Amsterdam (and also in Copenhagen) to combine the admission to a bunch of museums and venues. My accommodations were at the ClinkNOORD hostel, which was in a very convenient location just a 300 m walk and a free ferry ride from Centraal Station.
As with my previous post, I wanted to share my top five experiences from this city:
Renting a bike for a day and biking out to Zaanse Schans.
Visiting the Van Gogh museum.
Amsterdam is a great city for just walking around, looking at the canals and old buildings, doing some window shopping, and people-watching.
Aside from the Van Gogh Museum, I visited other museums (notably the Rijksmuseum, the Maritime Museum (Scheepvaartmuseum), and Micropia) that were also really good.
Going on a boat tour of some of the canals.
I'm planning separate posts to describe the maritime museums I visited on this trip and biking out to see windmills and polders, but here are some photos and notes from the other things I saw and did in Amsterdam:
These photos look across the IJ in both directions, North and South: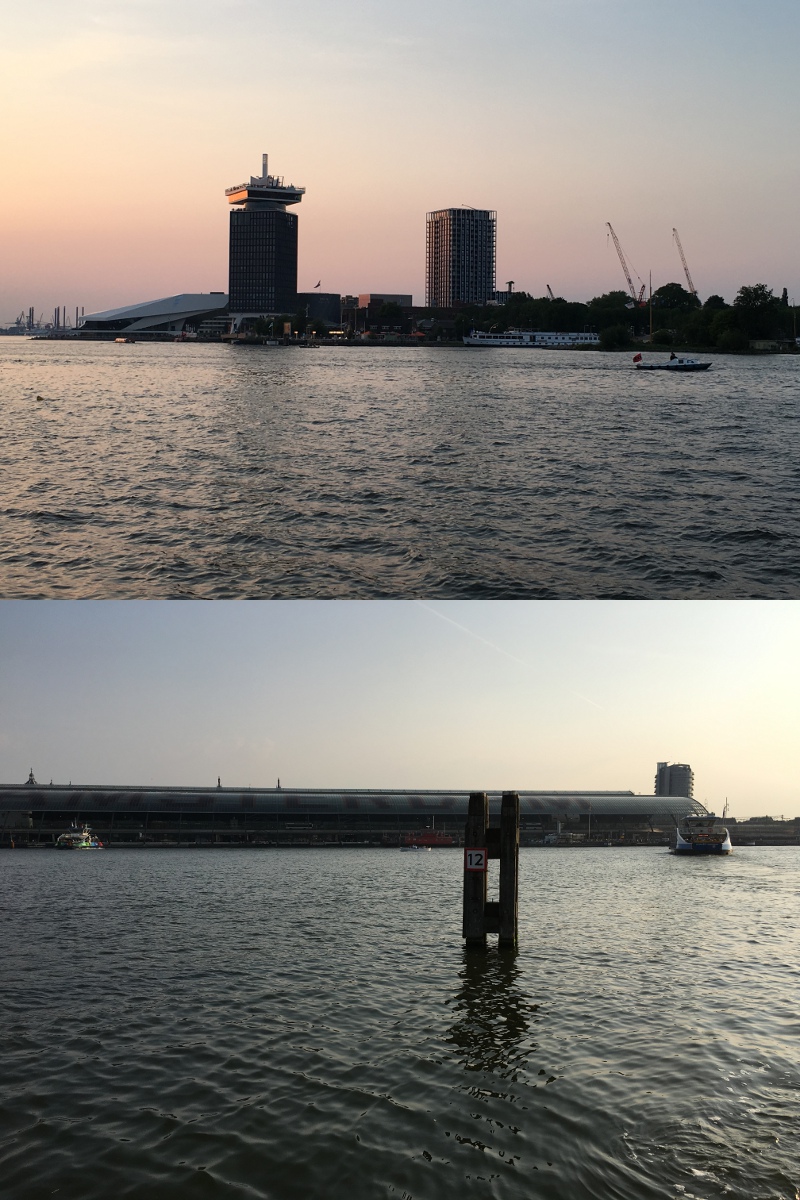 From left to right, these photos show going on a boat tour, a sculpture in Rembrandtplein of the "Night Watch" painting, and a cheese store. Normally I prefer paintings to sculptures, but I thought this 3D adaptation of a Rembrandt painting was really cool. At the cheese shop shown (Kaaskamer), the line was too long so I didn't get anything there—but one of the great things about downtown Amsterdam is that you don't have to go far at all to find another cheese shop.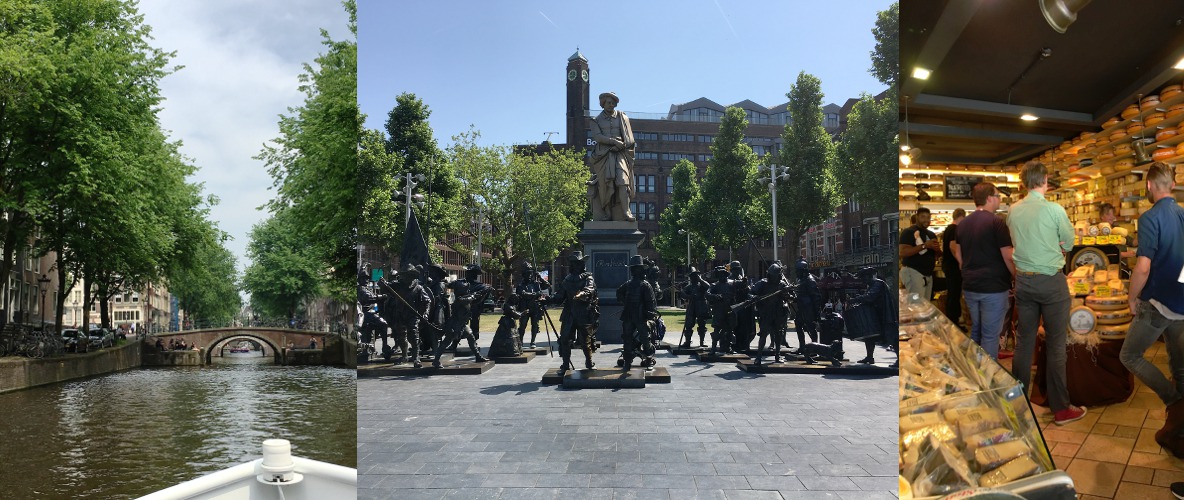 Here are a few paintings from the Rijksmuseum. In the top left is one of the Golden Bend by Berckheyde. In the top right is a painting of a windmill pumping water from a polder by Paul Joseph Constantin Gabriel. The two-panel painting on the bottom illustrates the St. Elizabeth's Day Flood, with water rushing through a ruptured dike (next to the ships). Other notable works in the Rijksmuseum include ship paintings by van de Velde (father and son), the Hall of Honour, and Rembrandt's "Night Watch". The latter is in a room with six other paintings (by other artists) of civic guard companies that were all commissioned for the militia headquarters. I find it remarkable that the prominent citizens of that time period took such pride in defending their city to commission these artworks. In the Rijksmuseum, I also saw a few paintings of peasant celebrations that made me wonder if those artists had had influence on Cornelius Krieghoff, since he has scenes of people partying and making mischief that have a similar feel to them.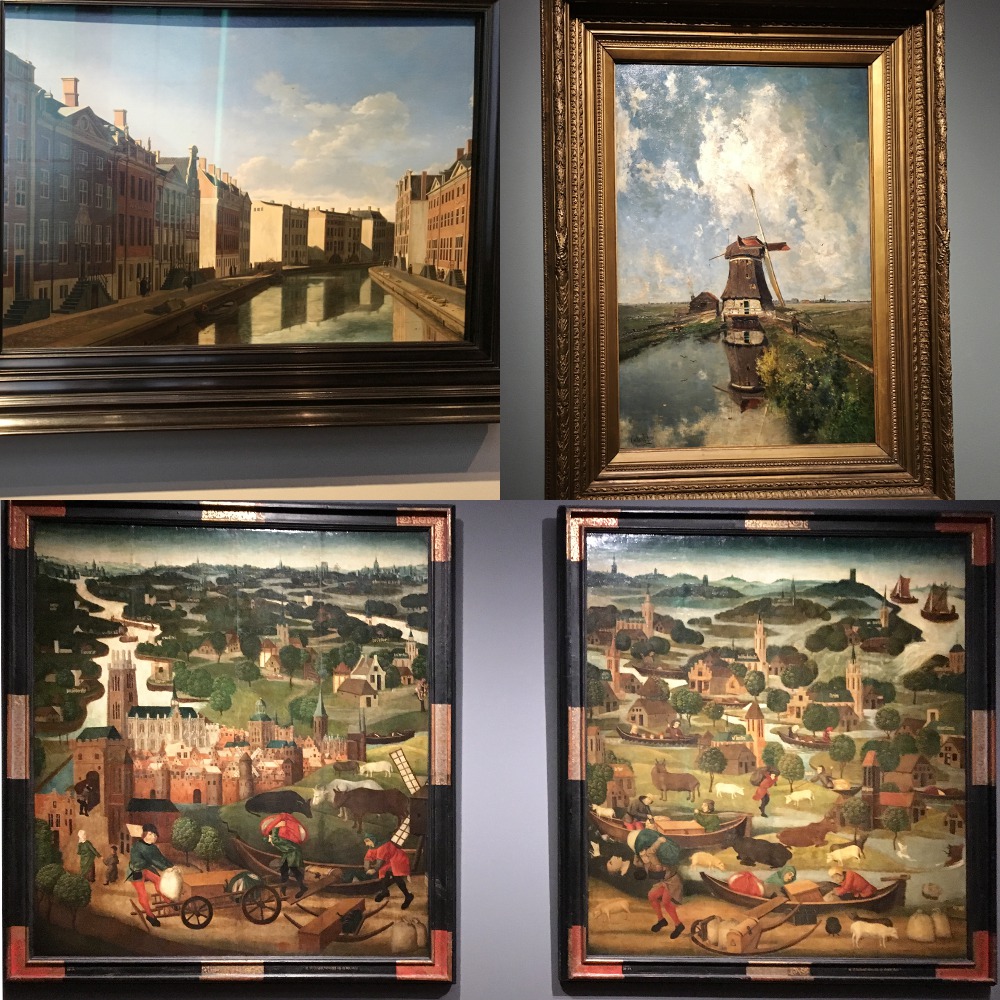 The NEMO Science Museum has cool architecture and a great observation deck on its roof (I didn't go inside, just climbed up to enjoy the view). Here is the Scheepvaartmuseum, with its replica East Indiaman, seen from that vantage: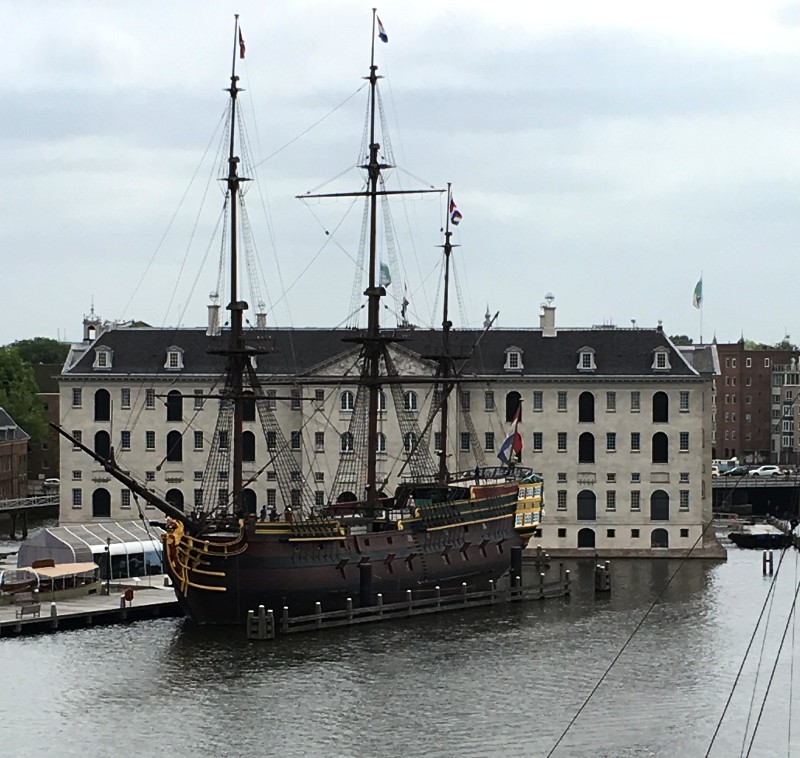 Micropia is a one-of-a-kind place. Through microscopes, prepared slides, culture plates, multimedia, and other exhibits it shows visitors various microorganisms and their activities. The photos below (clockwise from the top left) show cyanobacteria, leaf cutter ants (not microorganisms, but fun to watch for sure), yeast, and a display on algae and the products they're used in. Personally, I was looking for nitrifiers but I didn't see any. The day I went to Micropia, I basically saw all of the kingdoms of life because I also went to de Hortus botanical garden and the Artis zoo. The giraffes and some playful alpine ibex kids were the highlights at the zoo.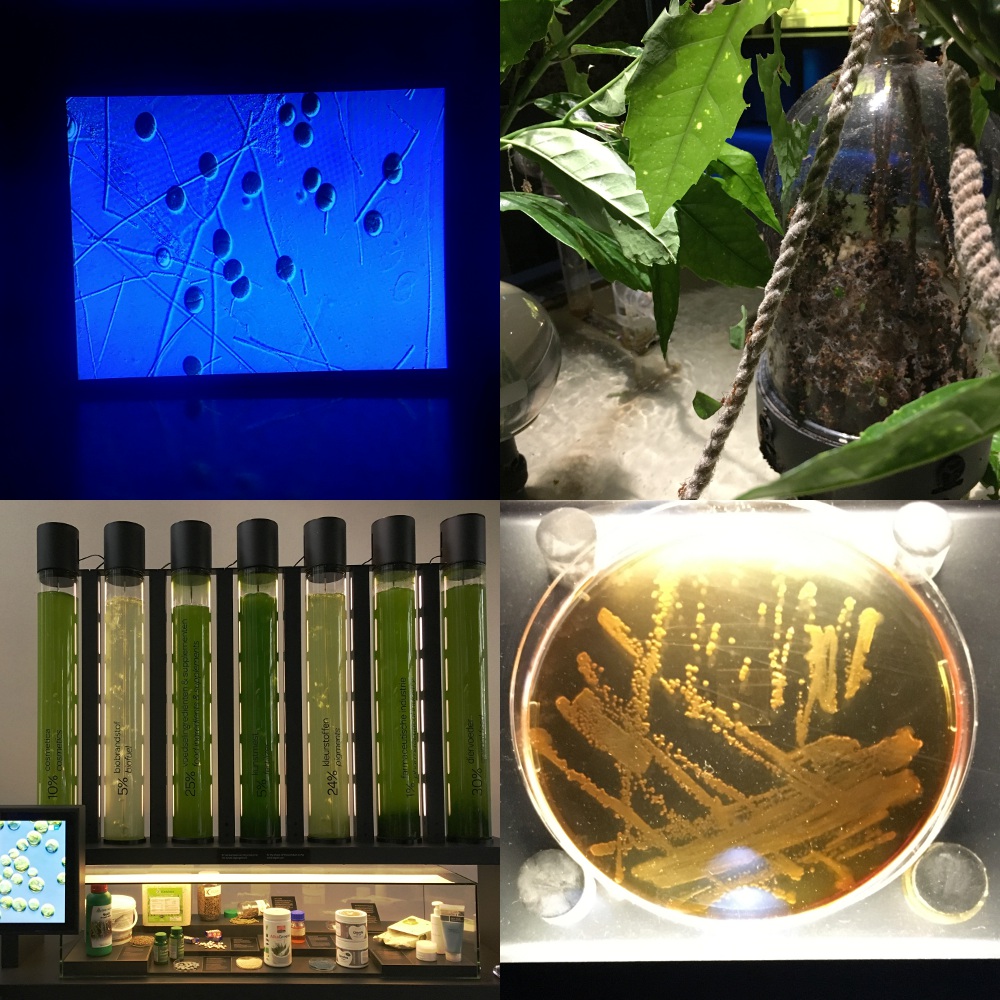 The Van Gogh Museum doesn't allow photos, so I don't have any from there. (If you go, also note that you have to book a ticket in advance for a specific timeslot). His paintings are really incredible to see in person—some are sublime, honestly. The museum was also really well laid out to show the development of his style and also the course of his personal life. In addition to paintings by Van Gogh, it displayed some paintings by his friends who influenced his style. "October" by Daubigny was one that I really appreciated. While I was there, the museum had an exhibit on how Van Gogh was influenced by Japanese artistic styles. He had a large collection of woodblock prints from Japan that he studied and tried to duplicate (compare this to the Hiroshige painting it is based on). The exhibit showed some Japanese art, discussed some of its elements, and then showed Van Gogh paintings that applied the same elements. Key elements included expanses of a single colour, strong contour lines, and bold diagonal elements.
On my last day in Amsterdam, I had lunch at Cafe de Ceuvel. It is a spot that takes recycling to new levels. They have old houseboats that have been brought onto land to be used as offices or workshops and they even make biogas from their waste (on a boat!).
If I'm in Amsterdam again, there are some different neighbourhoods I'd like to explore such as Jordaan and De Pijp. I'd also like to rent a boat on the canals and/or do some kayaking (in the city or nearby rural areas). Texel also sounds like a nice spot to visit in the surrounding area.
After my stay in Amsterdam, I went briefly to Utrecht then on to Rotterdam. Utrecht is a picturesque city, but I wasn't really there for long enough to do much, so I don't have anything to write about it.